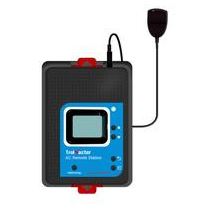 Hydro-X AC Remote Station
(universal remote control for any IR (infared) remote controlled AC)
ARS-1 AC Remote Station offers an universal remote control for any IR (infrared) remote controlled AC such as mini-split AC system.
With the connection to Hydro-X Control System, user can use ARS-1 Remote Station to learn and control any remote-controlled air conditioner easily and automatically. Choose your desired temperature setpoint for the Day / Night mode (see Temperature Settings in Hydro-X's instructions), the ARS-1 will turn on/off the air conditioner based on the setpoint in day or night mode.
Features:
LCD Display, Easy Operation
Seamless Connection with Hydro-X
Micro-SD for Firmware Upgrade
Address Assignment
Specifications:
Output Voltage: 0~11.5V
Maximum Current: 0.2A
Working Environment: Temperature 32-122°F, Humidity≤90%
Packaging Dimensions: 160mm(L) x 86mm(W) x 86mm(H)
Features
| | |
| --- | --- |
| Brand | TrolMaster |
| SKU | ARS-1 |
| Weight (lb.) | 2 |
| Length (in.) | 5 |
| Width (in.) | 5 |
| Height (in.) | 5 |
| Prop 65 | No |
| UL Listed | No |
 TrolMaster Hydro-X Instruction Manual
 SKU #: ARS-1